Supply Chain MBA
Getting a Supply Chain MBA is a smart career choice.  However, not everyone is able to get a Supply Chain MBA depending on their situation.  What are you doing to be sure you have the skills and knowledge to compete with anyone, including a person with a Supply Chain MBA.  And if you do have a Supply Chain MBA everyone single one of us can improve our knowledge in supply chain.  There are always new ways to be more efficient and effective in the business world.   Here are a few simple things to do without spending money on expensive training programs or going back to school for a Supply Chain MBA.   What advice do people have for others to improve their knowledge in supply chain?
Supply Chain MBA Videos and Information:
ASRS system installed at Pepsi Bottling Company – Before going back to get my MBA I worked for Revlen as an ASRS Manager.  ASRS systems never came up at my MBA Program but just a good thing to know.
Bullwhip Effect 101 – Definitely a supply chain concept people should know.
CEO Videos – Here is something that is priceless.  Videos from great CEO minds such as Sam Walton, Steve Jobs, Bill Gates, Richard Branson, Mark Zuckerberg, Jack Ma, Jeff Bezos…
Introduction to Strategic Management – Understand Strategic Management, also research Business Strategy which will provide the same information.  This is a very important topic in MBA Programs.
Negotiation Skills Top 10 Tips – Improve your negotiation skills.  A great deal of Supply Chain is procurement. To be a procurement professional you need negotiation skills.
Procurement and Strategic Sourcing
Supply Chain Management: The Beer Game – The Beer Game is what we played during orientation when I went back and got my MBA.  Everyone in the MBA program played the Beer Game, not just the Supply Chain MBAs.  Also see the Bullwhip Effect.
SWOT Analysis: How to perform one for your organization. – SWOT is something all MBAers will most likely do in one way or another.
Understanding THE GOAL: The best-seller by Eli Goldratt and Jeff Cox – Read this book in my MBA program.  It is a very easy read The Goal is usually high on any list for Supply Chain Books.
Videos about Amazon – Here is an assortment of videos about Amazon.  Amazon is an amazing supply chain company.  Learning about Amazon will greatly improve your supply chain knowledge.
Videos about Toyota – Toyota has a great supply chain and there is a great deal of information that can be found on it.
Videos about Walmart – Walmart constantly came up at my Supply Chain MBA program.  Walmart has done great things in the past with their supply chain and doing great things in the future.
Companies and People to Research
There is a great deal of information on the Internet about great supply chain companies.  See what these companies are doing and then figure out how to apply it to your company.
Companies: Assortment of Companies, Apple, Amazon, Dell Computer, Intel, P&G, Nike, Starbucks, Toyota, Walmart,
People: Sam Walton (founder of Walmart), Jeff Bezos (founder of Amazon), Michael Dell (founder of Dell Computer), W. Edward Deming (significant contribution to Japan's reputation for innovation), Taiichi Ohno (father of the Toyota Production System), Joseph M. Juran.
Top Supply Chain MBA Programs:
Carnegie Melon
Massachusetts Institute of Technology (MIT)
University of Michigan
University of Pennsylvania
Supply Chain Terms to know
MBA Buzzwords and business terms to know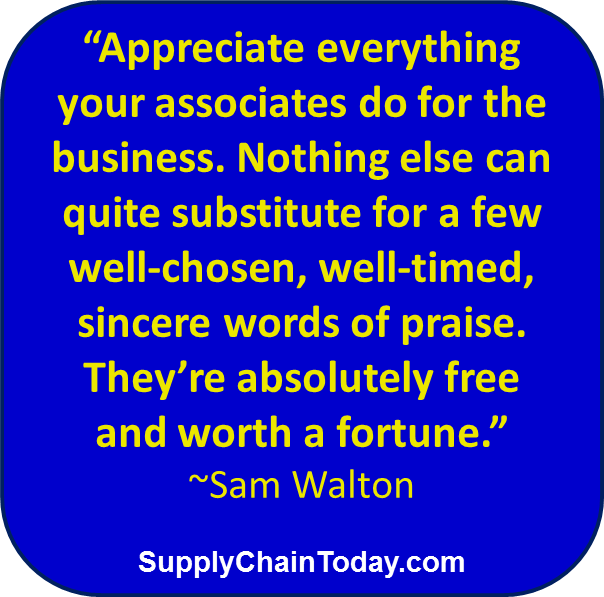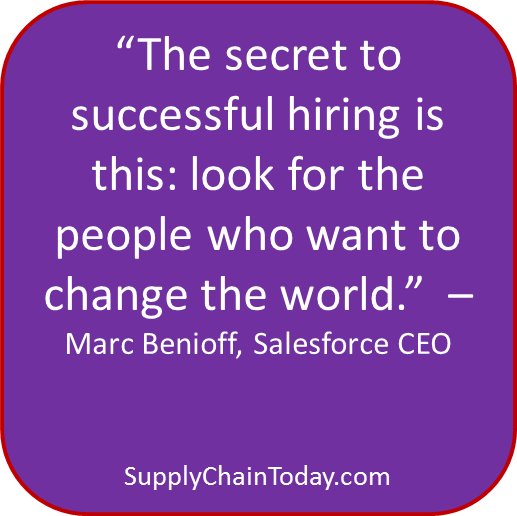 Business Quotes
"Success usually comes to those who are too busy to be looking for it." ~ Henry David Thoreau.
"Don't be afraid to give up the good to go for the great." ~ John D. Rockefeller.
"Would you like me to give you a formula for success? It's quite simple, really: Double your rate of failure. You are thinking of failure as the enemy of success. But it isn't at all. You can be discouraged by failure or you can learn from it, so go ahead and make mistakes. Make all you can. Because remember that's where you will find success." ~ Thomas J. Watson.
"If you really look closely, most overnight successes took a long time." ~ Steve Jobs, co-founder of Apple, Inc.
"Character cannot be developed in ease and quiet. Only through experience of trial and suffering can the soul be strengthened, ambition inspired, and success achieved." ~ Helen Keller.
"There are no secrets to success. It is the result of preparation, hard work, and learning from failure." ~ Colin Powell.
"Many of life's failures are people who did not realize how close they were to success when they gave up." ~ Thomas Edison.

"The key to the Toyota Way and what makes Toyota stand out is not any of the individual elements…But what is important is having all the elements together as a system. It must be practiced every day in a very consistent manner, not in spurts." ~ Taiichi Ohno, father of the Toyota Production System (TPS).
"Standards should not be forced down from above but rather set by the production workers themselves." ~ Taiichi Ohno, responsible for many supply chain innovations.
"Make your workplace into showcase that can be understood by everyone at a glance. In terms of quality, it means to make the defects immediately apparent. In terms of quantity, it means that progress or delay, measured against the plan, and is made immediately apparent. When this is done, problems can be discovered immediately, and everyone can initiate improvement plans." ~ Taiichi Ohno.
"Ignore the conventional wisdom. If everybody else is doing it one way, there's a good chance you can find your niche by going in exactly the opposite direction." ~ Sam Walton, founder of Walmart.  Responsible for the Walmart Supply Chain.
"As a leader, I am tough on myself and I raise the standard for everybody; however, I am very caring because I want people to excel at what they are doing so that they can aspire to be me in the future." ~ Indra Nooyi, CEO of Pepsi.
"Great ideas come from everywhere if you just listen and look for them. You never know who's going to have a great idea." ~ Sam Walton, Supply Chain Guru.
"Information is power, and the gain you get from empowering your associates more than offsets the risk of informing your competitor." ~ Sam Walton, Logistics Innovator.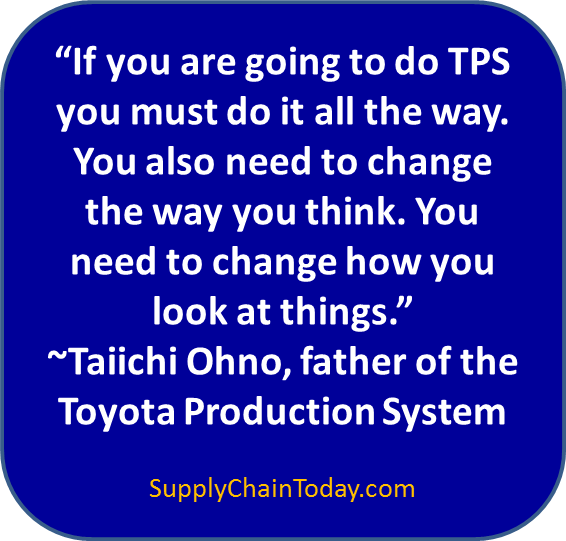 Assortment of Supply Chain Quotes