Apple CEO Tim Cook Supply Chain Guru
Apple is known to have one of the top supply chains.  Apple may be the best in Supply Chain.  I have always wondered how it got there.  Will be adding much more to this blog.  Going to get input from our Facebook and LinkedIn communities.
If you read about why Steve Jobs hired Tim Cook seems to be about improving Apple's supply chain.  I believe Steve Jobs wanted something similar to what Dell did with their just in time (JIT) factories.  Seems that Steve Jobs was a fan of what Michael Dell did with Dell's supply chain.­  Tim Cook was brought in to reduce inventory and make Apple's supply chain much more agile as well as leaner.  Tim Cook went from Apple's Chief Procurement Officer and took Steve Jobs place as Apple's CEO.
Tim Cook joined Apple in 1998 as the Senior VP of World Wide Operations.  Before this Tim Cook was a Supply Chain leader at Compaq.  Tim Cook realized quickly the complexity of Apple's supply chain and took necessary steps to reduce the complexity.  Tim Cook took the number of strategic suppliers from 100 to 24.  He cut the number of warehouses approximately in half.  He reduced inventory immensely.  Have read various articles where Tim Cook equates inventory to dairy products.  Read somewhere about nobody wants to buy spoiled milk.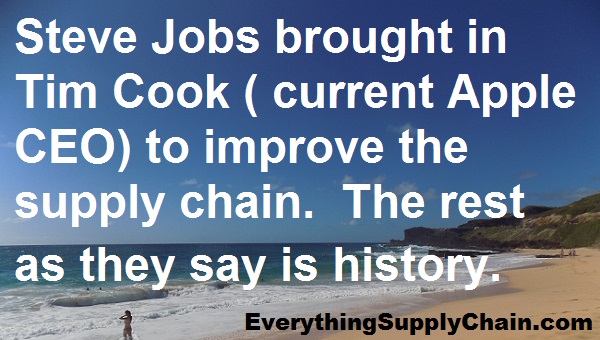 Tim Cook Quotes
"We care about every worker in our worldwide supply chain… What we will not do – and never have done – is stand still or turn a blind eye to problems in our supply chain. On this you have my word." ~ Tim Cook, Apple CEO Tim Cook Supply Chain guru
Too often people think about intuition as the same as relying on luck or faith. At least as I see it, nothing could be further from the truth. Intuition can tell you, of the doors that are open to you, which one you should walk through. But intuition cannot prepare you for what's on the other side of that door." ~ Tim Cook
We have to make sure, at Apple, that we stay true to focus, laser focus – we know we can only do great things a few times, only on a few products." ~ Tim Cook
Other supply chain videos you may find interesting.