Supply Chain MBA Terms
Supply Chain MBA Terms will get you up to speed quickly.  Think of this page as what many learn in the Supply Chain MBA classes.
Balanced Scorecard
Beer Game
If you don't know what the Beer Game is highly encourage you to do some research.  It is a great way to show the importance of communication and collaboration in the supply chain.
Bull Whip Effect
Business Strategy
Continuous Improvement
Distribution Center
Enterprise Resource Planning (ERP)
Inventory
Internet of Things (IoT)
Key Performance Indicators (KPIs)
Lean
Logistics
Negotions
OmniChannel
Quality
Procurement
SAP
Six Sigma
Supplier Management
Supplier Management Videos
SWOT Analysis
Total Cost of Ownership (TCO)
Supply Chain
Supplier
Design
Sourcing

Supplier Selection
Supplier Management

Manufacturing
Warehouse
Transportation/Distributor
Retailer
Customer
Service
Customer Service
Return
Raw Material
Producer
Retailer
Customer
Other glossaries
"Tell me and I forget.  Teach me and I remember.  Involve me and I learn." ~Benjamin Franklin.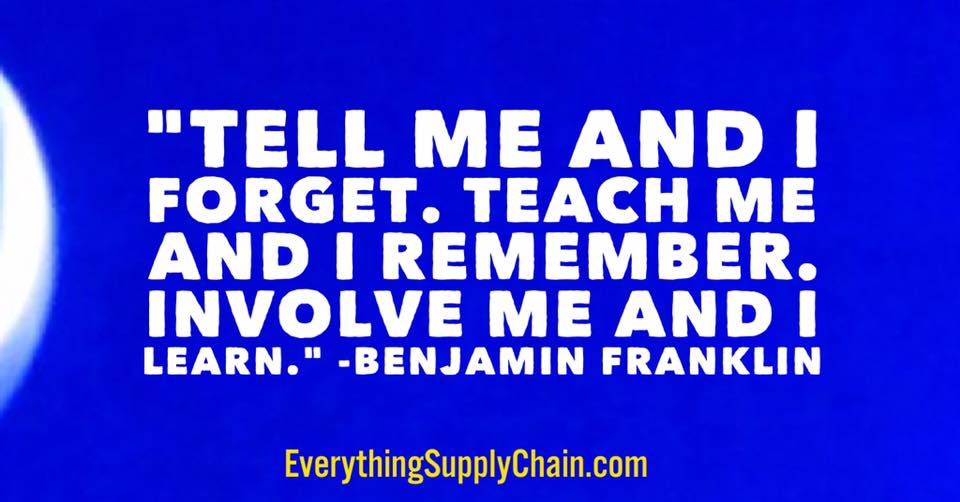 "I can't say it enough that learning how to learn is one of the greatest skills anyone can have." ~Mark Cuban.