Rocky Speech
This is such a great Rocky speech.  Some people love the Rocky movies and some people hate them.  What matters is if the words below get to you.  Listen to them.  How does this impact you?  Does it impact you.
"Let me tell you something you already know. The world ain't all sunshine and rainbows. It's a very mean and nasty place and I don't care how tough you are it will beat you to your knees and keep you there permanently if you let it. You, me, or nobody is gonna hit as hard as life. But it ain't about how hard ya hit. It's about how hard you can get it and keep moving forward. How much you can take and keep moving forward. That's how winning is done! Now if you know what you're worth then go out and get what you're worth. But ya gotta be willing to take the hits, and not pointing fingers saying you ain't where you wanna be because of him, or her, or anybody! Cowards do that and that ain't you! You're better than that!" ~ Rocky
Are you moving forward?
"Stay in school and use your brain. Be a doctor, be a lawyer, carry a leather briefcase. Forget about sports as a profession. Sports make ya grunt and smell. See, be a thinker, not a stinker."  ~ Apollo Creed, Rocky (1976)
"I appreciate that, but maybe you're looking out for your interests just a little bit more. I mean you shouldn't be asking people to come down here and pay the freight on something they paid, it still ain't good enough, I mean you think that's right? I mean maybe you're doing your job but why you gotta stop me from doing mine? Cause if you're willing to go through all the battling you got to go through to get where you want to get, who's got the right to stop you? I mean maybe some of you guys got something you never finished, something you really want to do, something you never said to someone, something… and you're told no, even after you paid your dues? Who's got the right to tell you that, who? Nobody! It's your right to listen to your gut, it ain't nobody's right to say no after you earned the right to be where you want to be and do what you want to do!… You know, the older I get the more things I gotta leave behind, that's life." ~ Rocky speech
Other videos you may find interesting.
"Nobody owes nobody nothing." ~Rocky Balboa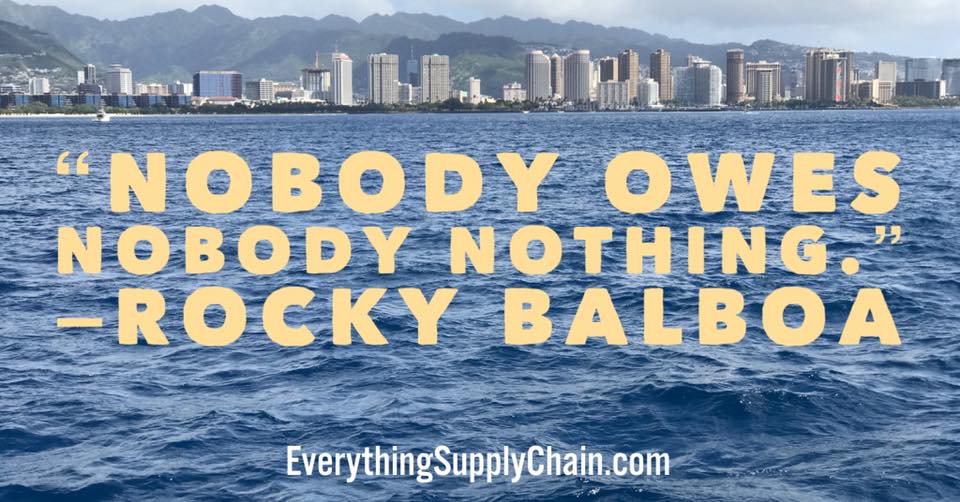 "Now, if you know what you're worth, then go out and get what you're worth.  But you gotta be willing to take the hits, and not pointing fingers saying you ain't where you wanna be because of him, or her anybody.  Cowards do that and that ain't you.  You're better than that!" ~Rocky Balboa